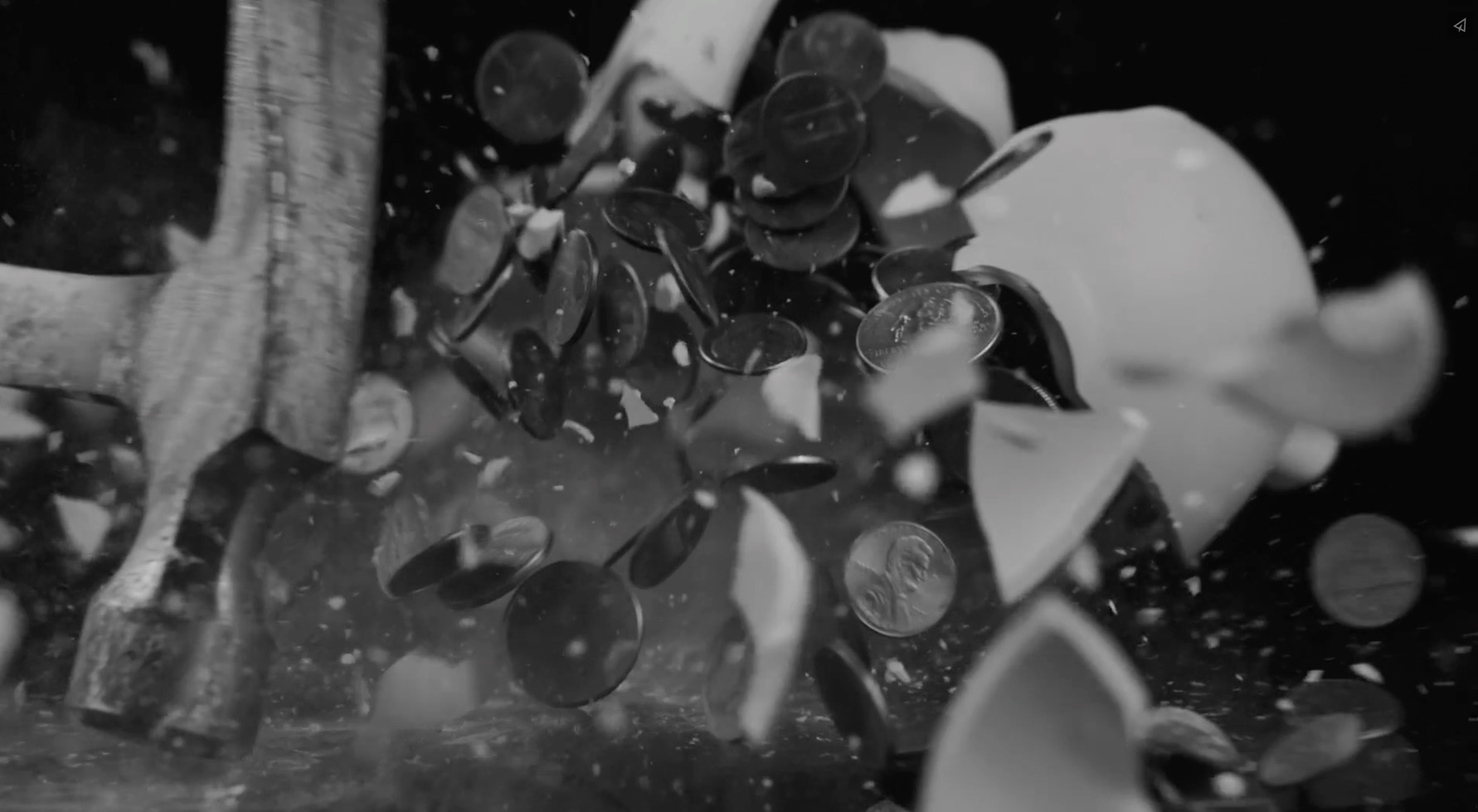 BROKE
"Everything we believe comes from stories we've been told." –Heather McGhee
In 2019, the Center for Public Interest Communications and the Radical Communicators Network co-applied for the Gates Grand Economic Challenge and earned a small grant to collaborate on a project focused on narratives about poverty. Early on, we decided to focus on both poverty and wealth narratives to tell a complete story—because poverty and wealth are two sides of the same coin.
Joined by Milli, our project, BROKE, combines the science of storytelling–applying what research tells us makes stories more memorable, inspiring, and actionable, narrative power– a framework for social movements to take advantage of political opportunities, construct narrative interventions, disrupt hegemonic thinking, and intervene to expand the collective perception of what is socially, economically, and politically possible– crafting resources for activists and communicators that are easy to use and incorporate into their work.
We focused inward on the nonprofit and philanthropic sectors because although there are many organizations advancing liberatory narratives, other well-intentioned organizations invoke harmful tropes as a way of demonstrating their organizational effectiveness. They tell stories about how their organization has contributed to the end of individual poverty. When this happens, people with lived experience–the people who lived the stories–lose control over when and how their stories are used. Stories of individual triumph or success crowd out stories that help people see the ways systems are designed to privilege the few over the many. As a result, we come up with the wrong solutions.
Read our report
BROKE, a colloquialism we use to describe when we're out of money, has become a stand-in for not having enough. And while it is often used flippantly, it distracts us from the broken systems shaped and reshaped to advantage some and oppress others, as well as the stories that protect those systems—stories that insist both poverty and wealth are the result of individual choices.
This project synthesizes what we learned from the research and offers a set of recommendations grounded in the science of storytelling. To arrive at these recommendations, we conducted a literature review focused on understanding prevalent narratives about poverty, a content analysis zeroing in on the storytelling of anti-poverty organizations on social media, and interviews with practitioners who are doing it well. Altogether, we highlight bright spots, and we answer the questions:
What are the narratives about poverty and wealth coming from the nonprofit and philanthropic sector?
Do these narratives demonstrate the best of what we've learned from research and practice about how to tell stories that transform systems?
Narratives have the power to shape solutions, public opinion, and even the way we feel about ourselves. When we share narratives grounded in truth, and a belief in the humanity of all people, we create more just solutions, build empathy, and change culture. This is why we have focused both on understanding the history of narratives around poverty and wealth and helping new narratives emerge.
With these tools, we provide the nonprofit and philanthropic communities with an easy-to-use reference for communicating accurately and justly about how the rich got rich and why the poor stay poor, as well as how to use the science of storytelling to advance economic justice for all. It is also an opportunity for the nonprofit sector to confront the harmful narratives it perpetuates and to do better.
How the Project Came About
Over the years, the Center for Public Interest Communications, the Radical Communicators Network (RadComms), and Milli developed intentional relationships through our collective work in social-justice communications. In 2019, we applied for the Gates Grand Economic Challenge together and earned a modest grant to collaborate on a project focused on narratives about poverty. Early on, we decided to focus on both poverty and wealth narratives to tell a complete story about how the rich get rich and why the poor remain poor.
We co-applied for the grant because each of our formations specializes in specific fields: the science of storytelling, narrative power, and interactive design, respectively. We started this project with "teach-ins" during which we could teach one another what we do and how we do it.
We started our collaboration in the summer of 2019 and worked together through the pandemic, personal loss, and hardship, as we principally struggled to collectivize our values, ideas, and labor. Over the years, we have gotten to know each other—what inspires us, what makes us human, and what makes us passionate actors for social change. It has not always been easy, but it has been worth it. Through this project, we wanted to focus on the nonprofit community to which we belong. Most of us are doing our best to create a more just world, and sometimes we inadvertently do more harm.
BROKE is an opportunity for each of us to examine the stories we tell about poverty and wealth, and to work together to build new narratives rooted in the wisdom of lived experience, narrative power, organizing for economic justice, and social science. The insights from BROKE help us understand where and how we can grow and transform as a community of activists, communicators, storytellers, and strategists dedicated to building a free and just world in which all people can live authentic lives with dignity.
The Team
The Center for Public Interest Communications studies, tests, and applies the science of strategic communication for social change. The Center works with change agents around the world to understand the behavioral, cognitive, and social science that affect how people think, make decisions, and behave. Through the use of science, systems thinking, and human-centered design, the Center helps organizations create and implement powerful communication strategies that result in lasting change.
The Radical Communicators Network (RadComms) is growing and strengthening the ecosystem of social-change communications by bringing together a global cohort of communicators to cross-pollinate conversations across a variety of movements, organizations, levels of experience, geographies, languages, and political associations. With more than 5,000 members across almost every U.S. state and in at least 20 countries, RadComms is a networked community that expands beyond local bounds to transform political opportunities into long-term social protest or change.
Milli is an award-winning, purpose-driven creative agency specializing in strategy, content creation, and social media. Milli leverages the power of technology, art, and culture to create a more connected, engaging, and just world.
Acknowledgments
This project would not have been possible without the partnership of Southerners on New Ground, Action Center on Race and the Economy, The Coalition of Immokalee Farmworkers, Economic Security Project, Migrant Justice, and Invisible People.
Thank you to Omidyar and the Gates Foundation Voices for Economic Opportunity Grand Challenge for the platform and resources to develop this project, and to Purpose for their stewardship.
We are deeply grateful to the people who contributed their talent, skill, and creativity along the way, including Natalie Asorey, Jack Barry, Jamila Aisha Brown, Tomme Faust, Michael Huang, Beth Jacob, Brenda Luu, Sarah Main, Brendan Martin, Shanelle Matthews, Nirmala Nataraj, Annie Neimand, Anastasia Nylund, Rakeem Robinson, Mark Rottensteiner, Ann Searight, Heena Shah, Matt Sheehan, Trina Stout, Lisette Tolentino, and Zakyree Wallace.
BROKE at the Allied Media Conference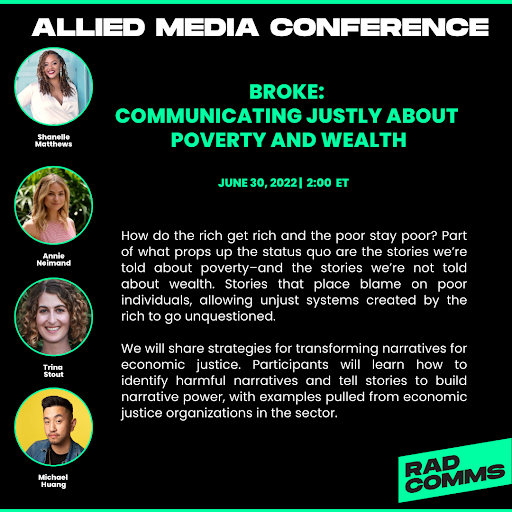 Tools