The discussions and engagements within the RadComms Network have always been rich with collaboration curiosity, and illustrate how we sharpen one another as we build narrative scaffolding for a more liberatory future.
We know social-justice communicators are busy, so we are offering this quarterly newsletter to capture the most timely, popular, and robust ideas and conversations we had last quarter.
Let us know what you want to see more of.
Exploring Narrative Patterns in Parallel Fights for Freedom
"Our concern for Black power addresses itself directly to this problem, the necessity to reclaim our history and identity from the cultural terrorism and depredation of self-justifying white guilt. To do this we shall have to struggle for the right to create our own terms through which to define ourselves and our relationship to the society, and have these terms recognized. This is the first necessity of a free people, and the first right that any oppressor must suspend."

—Stokely Carmichael, 1966
by Shanelle Matthews
When Black power orator and organizer Stokely Carmichael wrote these impassioned words in his pointed and urgent essay "Toward Black Liberation," for the Massachusetts Review in 1966, the domestic and global political conditions rivaled those of today. Back then, cries of dissent and yearnings for freedom bellowed from the fields of Vietnam to the factories of Detroit, as imperialist forces oppressed Black people and people of color in the U.S. and abroad. One of many ideological and material confrontations in the U.S. during that time—three years after the March on Washington for Freedom and Jobs—was whether or not assimilation and integration, or self-determination and self-governance, were the future for Black people in America. Carmichael represented the self-determined, who refused to assimilate into a narrow definition of what it means to be a U.S. citizen; he challenged the underlying assumptions and legitimacy of American ideals. He used the inches in this essay to assert that, in order to thrive, Black people require institutions that represent our "communal needs within larger society."
The wars oppressed people fight have distinct features, but all power relations have a narrative dimension, and there are parallel fights for narrative power and sovereignty. Today, as the people of Ukraine resist violent, deadly Russian aggression, they also fight an ideological battle against mythologies of manifest destiny (a cultural belief launched in the U.S. during the 19th century that promoted rampant expansion and settler colonialism as a moral imperative of "superior" white Americans, which can also be seen in current attacks on the sovereignty of Indigenous people and marginalized groups across the world) and widespread Russian supremacy propaganda. This propaganda recasts Russia as the world superpower and erases the hard-fought identity and history of the Ukrainian people and the geographic borders of Ukraine altogether. As communicators, we can identify narrative patterns in these parallel fights and expose oppression within and across regimes, while simultaneously communicating a shared liberatory future.
Narrative power for social justice is a framework for social movements to take advantage of political opportunities; construct narrative interventions; disrupt hegemonic thinking; and intervene to expand the collective perception of what is socially, economically, and politically possible. We use the practice of communications to define what our future society looks, feels, smells, and tastes like; how we treat one another; what we do and do not believe; and how we understand the individual and the collective's value in relation to social structures.
Our humanity, freedom, and self-determination are directly connected to the power and resources we have to distinguish ourselves from our oppressors. Carmichael argues that white supremacy is systemic and patterned. As long as the white community controls and defines "the forms that all institutions within the society make," Black people will be "excluded from participation in the power decisions that shaped the society." In other words, we do not want your culture, values, and institutions. We want our own, and we will go to great lengths to define ourselves and our histories, interpret our own experiences, and determine our fates.
A similar, interethnic demand echoes from the rubble in Ukraine.
How we define the problems we are working to solve, and whom we collectively agree has the power to define them, matters. The same is true of the solutions. For example, Putin's war is a deadly power grab with the goal of Russian expansion, but to justify the war at home, Russian propaganda stokes fears of fascism and vows to "denazify" Ukraine by exaggerating the number of right-wing dissidents and vowing to stomp them out. In the 60s and 70s, U.S. propaganda stoked fears of communism, and the FBI pejoratively declared the Black Panther Party a communist organization and an enemy of the U.S. government. The goal was to delegitimize the group's demands and to justify brutal violence and assassinations. The strong identities of Black Power organizers and Ukrainian nationals, among other things, represent a weakening of the old world order and threaten the power of the dominant groups. In response, the old order spreads messages to delegitimize the groups, justify violence against them, and gain ordinary people's support in their pursuit of power and resources.
Whether the war oppressed people fight is ideological, geopolitical, or both, it presents an opportunity to intervene in hegemonic thinking, which is how dominant groups wage cultural and political ascendancy. Narrative opportunities materialize from our sociopolitical conditions, and when there is sociopolitical disruption, we can weaken dominant narratives or insert a new narrative. This is what Carmichael did through his essay and what the Black Power movement did broadly.
In response to economic exploitation, anti-Black policymaking, and police terror, uprisings erupted in almost every major U.S. city in the 60s. Black Power organizers used the widespread disruption of business as usual to proliferate the Black Power framework. This framework poked holes in white hegemony, which promoted the institutional and cultural dependence of Black people. It's too soon to analyze the outcome of the narrative interventions deployed by oppressed groups in Ukraine and their allies elsewhere. However, there is no doubt that the intersectional and systemic narratives used to justify Russian supremacy are being vigorously challenged by Ukrainian nationals and allies as they struggle to demarcate geographical boundaries and radically shape the social norms and rules that influence their lives.
"…I can see very clearly the discrepancies between what happened, and the versions that are finding their way to general acceptance as a kind of popular mythology," Carmichael writes in the essay of how mainstream media distorts the conditions and experiences of Black people and Black power-building efforts in real time. We have to look further than conventional news and memes on social media, at the network of intersectional and systemic narratives that justify oppression and the social structures that codify and enforce it. Professor and narrative researcher Ken Plummer reminds us that "out of deep conditions of domination and exclusion, people create their own insights, understandings, knowledge, and narratives," which are fundamental to the fight for the interests and self-determination of future generations.
Join us on April 26 for a discussion on the complex world of wartime narratives and the role social movements and social-justice communicators play in reducing suffering. This discussion features Marzena Zukowska, Zrinka Bralo, Romeo Kokriastski, Robert Cuffy, and Simon Rodríguez Porras in a conversation moderated by Shiyam Galyon on antiwar narratives.
In community and service,
Shanelle Matthews
Founder and Leadership Team Member, RadComms
BEST PRACTICES FOR AntiWar COMMS RadSession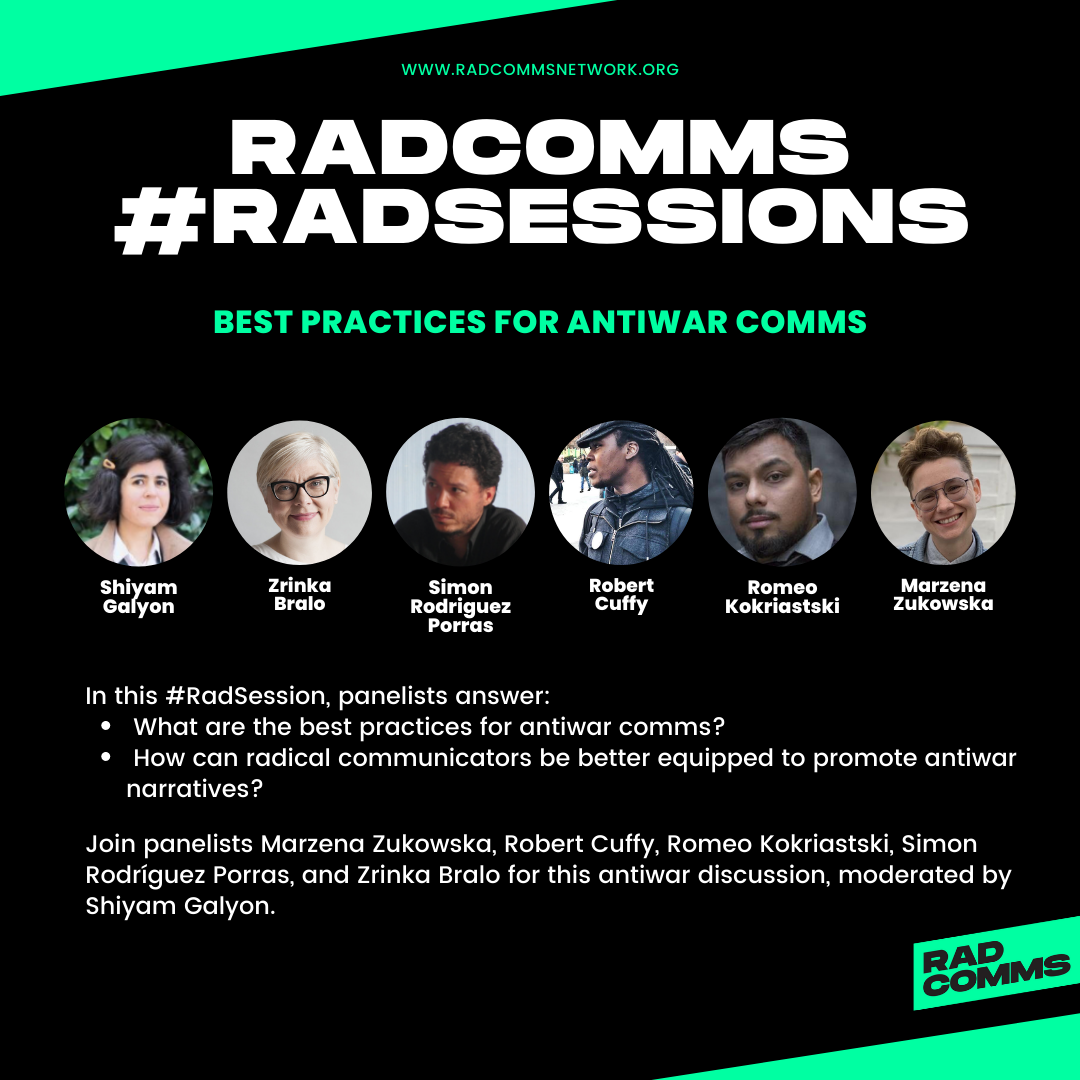 The lead-up to and aftermath of Russia's invasion of Ukraine has revealed a rift in how we communicate about war and our opposition to it.
Communicators have faced challenges in finding the right language to express support for those in Ukraine facing ongoing violence and displacement, while having to sift through disinformation and its impacts on communities.
Meanwhile, racism in the treatment of Black and other minority communities in Ukraine, and the selective solidarity toward similar struggles for self-determination, has undermined cohesion in antiwar messaging. Globally, the conversation on war is impacted by many imperial actors—including Russia, the U.S., and allies like the U.K.—who have also invaded, occupied, and destroyed countries in the name of expanding empire.
In this #RadSession, our panelists discussed:
What are the best practices for antiwar communications?
How can radical communicators be better equipped to promote antiwar narratives?
ICYMI — OUR LAST RADSESSION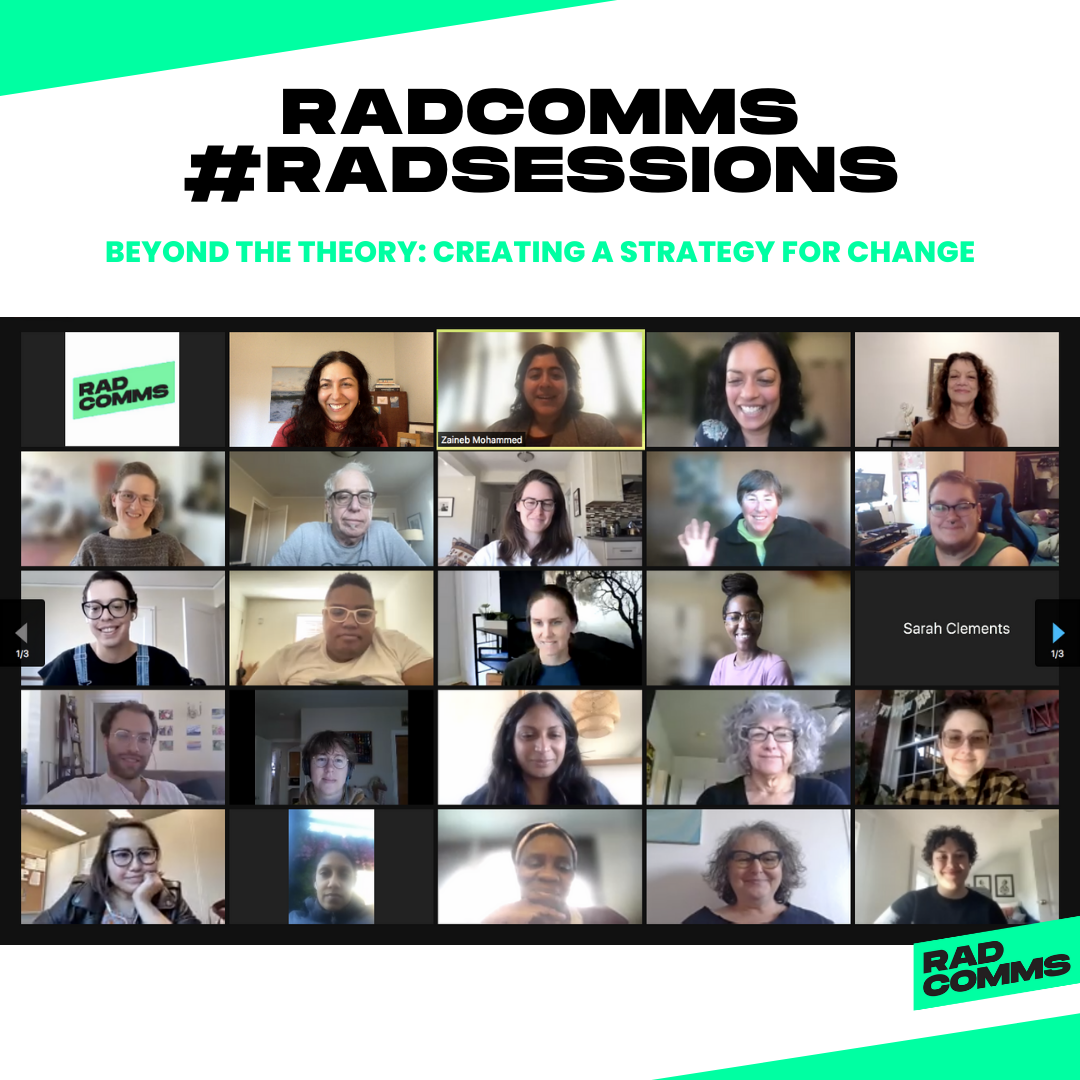 Beyond the Theory— Creating a Strategy for Change
Can a Theory of Change (ToC) help RadCommers deepen their impact? How should storytelling and strategic communications be included in a progressive ToC? How can the process clarify a structural/system analysis of the change we intend to achieve? How can both creativity and rigor flourish in this context?
…Actually, what is a ToC?
Inspired by robust interest on the RadComms listserv, media strategist Ellen Schneider, Apsara Projects founder/lawyer Juhu Thukral, and special guest, social impact consultant Debika Shome, held their inaugural Theory of Change 101 workshop on February 11 with eighty RadCommers in attendance for RadComms–style roadmapping and cooperative learning.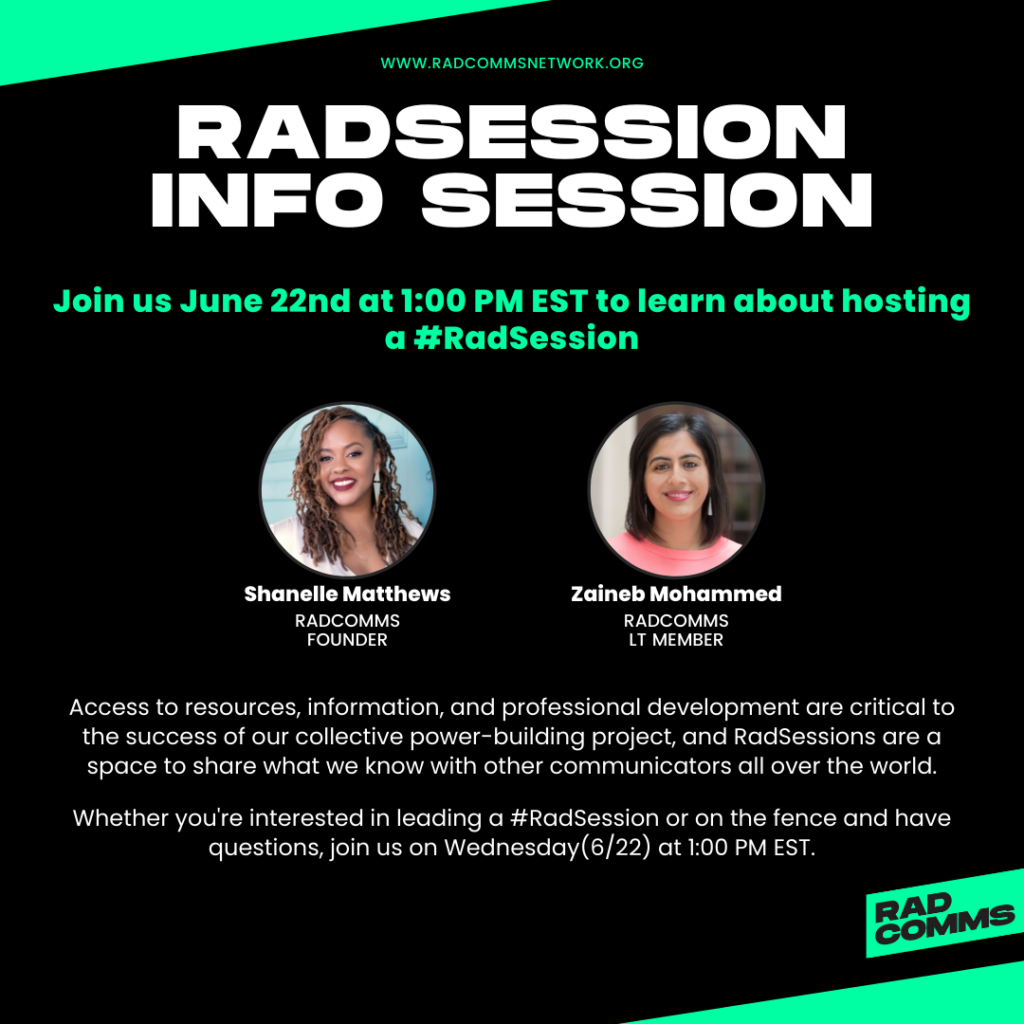 WANT TO LEAD A RADSESSION?
RadSessions are peer-to-peer learning sessions in which you share your expertise with like-minded communicators. This mechanism allows us to begin to learn relevant tools, get updated on framing and messaging about current events that intersect with our work, and innovate on the best strategies for making the world more just.
RadSessions are hosted each month for one hour at 1:00 PM EST. View past RadSessions.
If you are interested in hosting a RadSession and want to discuss your idea, register for our RadSession Info Session. If you already fleshed out your topic and are ready, view the guidelines and apply to host.
POPULAR, IMPORTANT, AND TIMELY RADCOMMS DISCUSSIONS
– Communications strategies we're advancing include Advice and tips about communication on trans athletes amidst anti-trans legislation. Why—and how—must we include long COVID in the narrative of the COVID-19 pandemic. Making sure our vision of a just world includes and uplifts fat people—and the language that will help us get there. Capitalization of Race: when do you capitalize the "B" in black? Do you ever capitalize the "W" in white? Have you ever wondered what's the difference between trigger warning and content warning?​
– Statements that caught our attention include: Open letters from Kyiv and Lithuania rejecting the "anti-imperialism of fools." FRIDA's powerful response to receiving a billionaire's money.
– Articles RadCommers published include: A look at racist manipulation of DEIJ language by Elizabeth Silleck La Rue. A breakdown of the Islamophobia underpinning the examination of now–Justice Ketanji Brown by Maha Hilal. An explanation of why not liking war is not the same as being anti-war by Shiyam Galyon.
– "In the office," RadCommers are discussing: Whether creative job titles hurt or help. What salary scales are at other organizations. What our dream comms teams and dream narrative reframes look like. Advice on how to integrate comms into strategic planning. The necessity of compensation for impacted people in storytelling. Offering advice on what to do when your comms director quits. Sample interview questions for your next hire. Ideas on how to boost press coverage when you have a big piece coming out.
2022 RadComms Communications Frameworks Survey
While issues rise and fall from the news and pop-culture agendas, social-justice communicators' critical role is maintaining a steady drumbeat toward radical social change. We know our opposition is eager for us to propose false solutions or to co-opt our work, so how we do this work matters.
Within social-change/justice and nonprofit communications, there are several frameworks, including but not limited to marketing, impact marketing, public relations, public-interest communications, strategic communications, nonprofit communications degree programs, and narrative power.
This brief survey aims to understand the roots and frameworks of RadComms members' experiences in nonprofit and social-justice communications. We want to know where you learned how to do communications work, who taught you, what framework you use, what books and tools you rely on, and how you believe change happens through communications.
The goal is to understand the different schools of thought that span the social-justice communications field, highlight where there are gaps in education and resources, and have a baseline for developing political-education resources for people interested in taking a radical approach to their work.
We are offering gifts to the first five people who fill out the survey. Please complete by COB May 13.
The Resource List Is Live on the Website!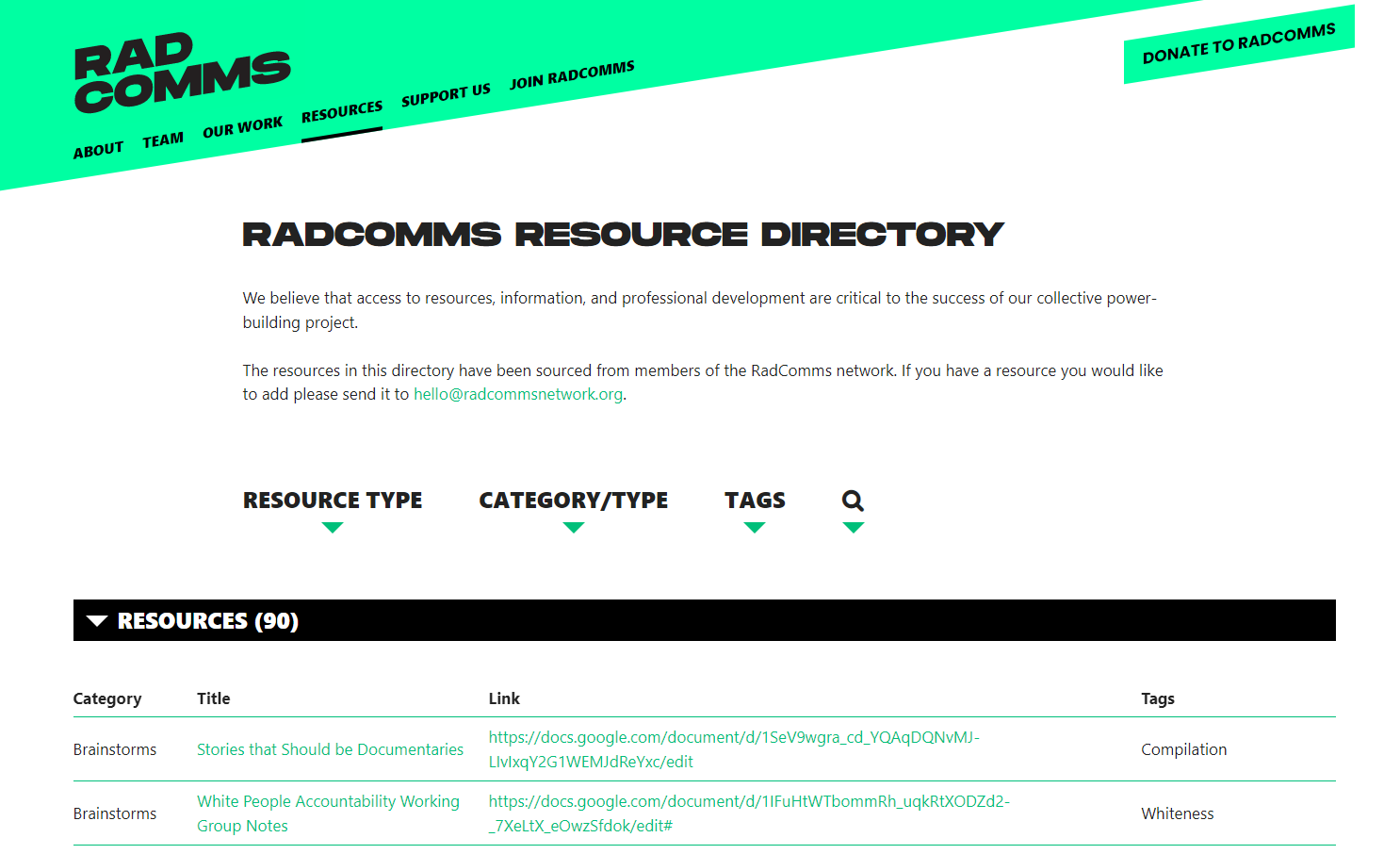 One way we build power together and support each other's work is by democratizing resources like messaging guides, press lists, trainings, and workshops. Since 2016, RadComms members have contributed to a robust, shared resource list intended to do just that. The RadComms leadership and admin team took those resources and turned them into an easy-to-use resource directory on our website.
To add resources to this directory, email Gaby at hello@radcommsnetwork.org. Resources that are shared on the listserv will be added on a rolling basis.
Events/Bootcamps/Workshops from the Listserv
​
In community & service,
​
RadComms Leadership Team & Gaby
(choose ReFrame: RadComms)